London is a huge thriving metropolis with over 8 million residents and divided in to 32 boroughs.
It is one of the most exciting cities to live in, work in or travel to.
The concern many travellers and visitors to London have is the safety in the capital and also how to stay safe when staying and working in London.
I was born in London and lived in London for many years. I have worked, stayed and travelled around almost every part of London extensively and still do so until this day.
The question I am often asked is to whether London is a safe city or not?
London is a safe city. Crime rate is relatively low inside Greater London, although increases into the suburbs and across the Outer London boroughs. There is 47% less violent crime in London than in New York. London Underground crime affects just 0.00001% of passengers each month.
These statistics tell a story I can relate and agree with from experience. London is also considered to be the 14th safest city in the World.
In this post we will look at popular London boroughs with tourists and travellers and look at crime rates, as well as essential tips on staying safe in London.
How Safe is London City Compared to Other Cities?
All cities in the World have their crime problems. London is no exception.
Smaller crimes like vandalism and pick-pocketing are regular day occurrences on the streets of London.
Violent crime in the outer boroughs of London is not unheard of, and there are places as tourists that you may want to avoid. As much as they do not really offer much for tourists as for safety reasons.
We will cover some of those places in this article.
Violent crime in the heart of London tourist spots is not particularly common.
To show this is a more visual way, here is some data to show major crime rates in London compared to major U.S. cities:
| City | Homicides per 100,000 |
| --- | --- |
| Chicago | 24.1 |
| Las Vegas | 12.6 |
| Los Angeles | 7.0 |
| New York | 3.4 |
| London | 1.6 |
Crime Rates per London Borough Compared
As already mentioned, some of the London Boroughs are safer than others.
There are 32 London boroughs in total. Each with it's charm, uniqueness, great food places and entertainment but some are better suited to tourists and travellers wishing to explore the most famous parts of London and soak up the true London atmosphere.
Here is data showing the comparison between boroughs with the highest crime rates to those with the lowest crime rates:
| Borough | Overall Crime Rate per 1,000 Population |
| --- | --- |
| Westminser | 171.3 |
| Kensington and Chelsea | 109.8 |
| Camden | 103.1 |
| Hammersmith and Fulham | 98.1 |
| Hackney | 91.2 |
| Merton | 53.5 |
| Bromley | 52.7 |
| Richmond Upon Thames | 49.9 |
| Kingston Upon Thames | 49.6 |
| Harrow | 45.5 |
Safest Places in London to Visit
Some really nice places in London are as safe to visit as anywhere in the UK. Nowhere is completely safe from crime, but these places are generally considered as safe for tourists and travellers alike:
City of London
Covent Garden
Trafalgar Square
Regent Street
Piccadilly Circus
Hyde Park
Theatre District
Tower of London and Tower Bridge
Oxford Street
Marble Arch
Where in London Should Be Avoided
There are boroughs and parts of London that would be wise for those unfamiliar with London to avoid.
Crime rates can be a little higher in these areas, plus these areas are further away from the Heart of the London capital and have fewer tourist places to visit.
I have stayed in almost all of the following places without issue, but I would not perhaps recommend for first time visitors to travel to, especially at night-time:
Stratford
Greenwich
Westminster
Hackney
Islington
Camden
Tower Hamlets
Newham
Croydon
Kings Cross and beyond to the North
Soho
Boroughs outside the A414 (North Circular)
Westminster is perhaps the surprising area to add. Statistically it is considered to be the most dangerous place in London. Much of the crime in Westminster is due to pickpocketing amongst the huge numbers of tourists that flock to the area.
How to Stay Safe in London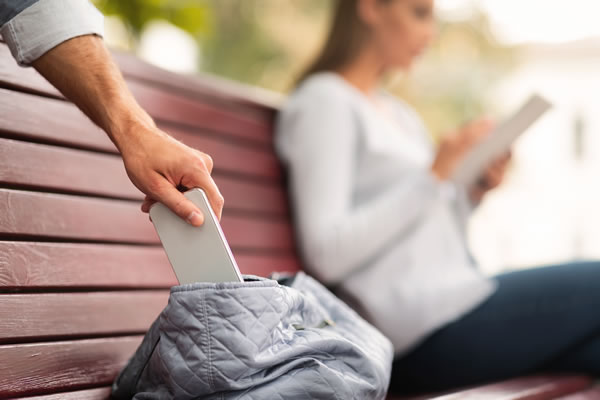 Staying safe in London is similar to staying safe in many other large cities.
Flashing your mobile phone in full view is only going to bring unwanted attention, although checking messages, making phone calls and using Google Maps should be fine.
You need to be aware of your surroundings and who is around you.
Beware of Pickpockets and Opportunity Thieves
Don't sit engrossed in your phone for minutes on end without knowing who is around.
London is a place for opportunists. It is dense enough that someone can grab a mobile phone from someone's hand and can lose themselves in crowds easily and quickly.
Handbags and laptop cases are also something that should be left lying around unsupervised.
I know people who have been sitting in a restaurant only to find the bag left beside them has disappeared!
Pick pocketers and thieves have learned their craft. They are fast and generally go unnoticed.
Keep backpacks locked with a padlock. Stopping at a shop window or in a crowd can be a prime place for thieves to be in and out of a backpack before you will have had time to notice.
Keep to Tourist Parts of London at Night
Tourist places in London stay busy into the small hours most nights of the week, especially around Covent Garden, Piccadilly Circus and around Oxford Circus.
The theatre district is also busy from daytime until 11pm-Midnight as theatre goers leave shows and head to hotels, restaurants and bars.
The City of London quietens down after around 9pm during the week and is almost deserted at weekends.
The City of London is not particularly unsafe at night, but if you prefer to be around lots of crowds and people there are other places to venture to and explore.
That said, St Pauls Cathedral and Tower Bridge look absolutely beautiful after dark and well worth seeing illuminated.
Public transport and taxis are generally safe. London Black Taxis are expensive, but drivers are regularly regulated.
Uber is growing in popularity in London, despite opposition from London Black Taxi drivers. I have used Uber hundreds of times for getting around London without issue.
It is considered safe but equally you have to be aware you are still getting into a stranger's car
The London Underground is another way or travelling around London quite easily.
Is the London Underground Safe at Night
We recently put together a data driven insight on how safe the London Underground actually is at night (it is definitely worth a read!) but our research showed than only 0.00001% of London Underground passengers reported being a victim of crime during 2019.
2020 and 2021 crime rates on London Underground have not been released due to the pandemic.
The safest underground stations are between Holborn and Marble Arch and down to Piccadilly Circus. Most tube stations within the Circle Line are considered the safest on the network.
Frequently Asked Questions
Is it safe to drive in London?
It is safe to drive in London, but driving in London can be confusing even for seasoned drivers and using a Sat Nav.
Having driven lots of times in an around London the challenge drivers tend to have is the built up streets have lots of side roads, multi-lanes, and lanes that split out into different directions.
If you do decide to drive in London, be prepared for a fast paced environment and frustrated drivers not shy of using their horns!
Is it safe to travel alone in London?
There are millions of solo travellers than travel into London every year. It is important to take safety precautions everywhere you travel to and keep to the safe parts of London, especially at night.
Are taxis safe in London?
Black Taxi drivers go through many rigorous checks and are considered a safe form of transport.
Uber is rising in popularity on the streets of London. Although thousands of Uber trips go without incident every day of the year you need to be aware you are stepping into a stranger's car. It is considered a relatively safe form of transport.
Be aware of unmarked or taxi drivers in laybys saying they are taxis. Many of these are unregulated and are considered unsafe.
There are professional taxi firms operating in London, such as Addison Lee, who also have a strong reputation for safety, and regularly used by corporate companies for staff, clients and celebrities.
Is the area around Big Ben safe at night?
Big Ben is one of the most popular tourist destinations in London.
At night each of the four clock faces illuminates, as well as Westminster Abbey, and is an amazing sight to see.
Big Ben is in the heart of Westminster, and almost directly outside Westminster Tube station.
Big Ben is in the heart of Westminster that statistically has one of the highest crime rates of the whole of London. This is mainly due to pickpocketing (50% of crime in the area).
It is worth considering that Westminster has a relatively low population and a high influx of tourists and high influx of opportunistic thieves travelling to Westminster due to the volume of tourists is a densely packed area.
It is generally considered safe during the day time, but due to the increasing crime rate in the area perhaps best avoided at night.
In Conclusion – Safety in London
On the whole, London is a safe city to visit and explore.
It is steeped in history and has many fascinating stories to uncover, along with a thriving heart keeping London alive.
As with any city or town you visit you need to take safety precautions.
Keep to tourist areas, especially at night and keep to regulated methods of transport whilst travelling around.