London has one of the most recognisable skylines in the world!
There are just a handful of places to visit that will allow you to really enjoy the most popular landmarks London has to offer.
The Sky Garden, which boasts the highest garden in London, is one of those. Best of all visiting the Sky Garden is absolutely free.
So, is Sky Garden worth visiting?
A visit to Sky Garden is well worth it for a birds-eye view of the famous landmarks including Tower of London, Tower Bridge, River Thames, and St Pauls. Sky Garden has two restaurants, a public garden, three bars, live music, and yoga mornings. It is free of charge to visit and open 7 days a week.
Sky Garden boasts the best views in London. We couldn't prove them wrong.
Sunset views are gorgeous across to the west, although the beautiful sunrise climbing above Tower of London and Tower Bridge to the east isn't possible, as the Sky Garden doesn't open until after sunrise.
As it's free of charge it's definitely worth a visit to experience the garden, and the jaw dropping view, if you're in London for the day but in this post, we'll look at everything you need to know about visiting, what to expect and whether it's worth a trip to London just to visit Sky Garden.
What to Find Inside Sky Garden
The Sky Garden really is unlike anything else you'll find in London.
There are some of the taller buildings, particularly around city, that have restaurants and viewing areas inside, but the Sky Garden is definitely unique.
The garden is actually indoors with huge glass panels all around giving the best views of London you're likely to see.
It's a serene and calming area, especially if its quiet when you visit, although this generally has to be early or late in the day.
There is also an outside terrace area to enjoy. Being outside definitely adds to the experience – just like it does at the top of the Empire State Building in New York – but it's worth noting the outdoors terrace closes at 6pm.
Sky Garden host a number of events. These range from regular live music and also an interesting yoga morning within the garden area, overlooking London as it wakes for the day.
Inside the Sky Garden, as well as the actual indoor garden and outdoor terrace, you'll also find a couple of restaurants and bars to enjoy.
It's worth noting that your ticket (which has to be booked in advance but is free) is limited to a one hour time slot. So, if you plan to watch the sunset across London you need to coincide your visit with the time of the sunset for that day.
These tickets are one of the first to go, so you need to book early.
How many restaurants and bars are there in Sky Garden?
There are two restaurants and three bars inside Sky Garden in London. The Darwin Brasserie, an all day brasserie, offers a range of British cuisine. The Fenchurch Restaurant also offers a British inspired menu. Sky Garden also hosts three Sky Garden bars including DJ nights.
Is it worth a trip to London just to visit the Sky Garden?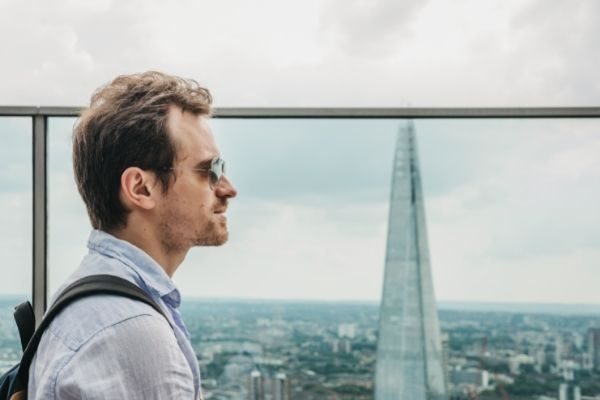 Sky Gardens is a great place to visit, but I'm not sure I would take a trip all the way into London just to see and experience it.
It may depend on where you are travelling from and how long that trip will take.
If you can visit London in less than an hour, then it may be worth the two hour round trip.
Your free ticketed entry, and visit, to Sky Garden lasts for an hour – so you need to make sure any visit is worth just an hour inside.
Although no one tends to police the length of time people stay for on a one hour booking slot, it has been known for people to be asked to leave if they do go past their allocated visit time.
You probably wouldn't want to spend more than an hour in the Sky Garden. As beautiful as it is, and how scenic the view, there isn't a whole lot more to do.
How to get a restaurant window table at the Sky Garden?
The best way to get a window table at one of the restaurants at Sky Garden is to book ahead!
As you can image, with the building offering the best views of London, everyone wants a table by the window and immerse themselves in the spectacular London skyline.
Almost everyone asks for a window table when they arrive, but usually these were directly reserved a long time ago.
The Fenchurch Restaurant requires a booking ahead of time. It's during the booking process you can request a table by the window.
It isn't guaranteed, and the restaurant do state they will do their best to accommodate requests, so it may depend on how far in advance you can make your booking.
Bookings can be made up to 3 months in advance through the Sky Garden restaurant booking page.
If you book exactly three months ahead of your planned restaurant visit, you will probably stand a better chance of grabbing that seat with a view and being the envy of everyone else enjoying their meal.
Can I see the sunrise and sunset from Sky Garden?
You can see the sunset from Sky Garden, and it looks absolutely incredible. Unfortunately, though it's not possible to see the sunrise from Sky Garden as it doesn't open until 8:30am by which time the sun would already have risen every day of the year, even in winter.
That said, an 8:30am visit on or closely around the 21st December (the shortest day) would give you the closest opportunity of a sunrise view to the east above Greenwich financial towers, Tower Bridge and Tower of London – as the sun rises at 8:04am in London, so will not be too high in the sky, and the amber hues of sunrise may still be visible.
Is it Free to Visit Sky Garden?
It is absolutely free to visit Sky Garden. Bookings do need to be made in advance, and a one hour time slot will be allocated for the visit. This does not include time spent at the restaurants or bars, just entry into the garden.
Where is Sky Garden in London?
Sky Garden is located in Fenchurch Street, which is in the city of London, and 5 minute walk from Monument.
The Sky Garden postcode is EC3M 8AF and a map of exactly where it is situated can be found here.
The closest tube station is Monument, and nearest bus stop is served by bus routes 35, 47, 133, 149, 344, 388 and N133.
Is Sky Garden Worth a Visit – In Conclusion
Sky Gardens is definitely worth a visit to see the London skyline as never before.
Your one hour visit should give you enough time to soak up the atmosphere, enjoy the tranquil garden and the outside terrace (London weather dependent of course!).