The London Underground is by far one of the quickest ways to get around London.
At night-time, although there are less cars on the road for it to be a little faster by taxi, Uber or bus there still isn't anything that can match the speed of the underground for getting around.
Many people are understandable concerned about their personal safety when travelling on the London Underground, especially at night.
But is the London Underground safe at night? On the whole, the London Underground is safe at night. Excluding pick-pocketing, crime rates are relatively low. On average there were 13.6 people per million travellers affected by crime in 2019/2020, which is equal to 0.00001% of passengers.
I have travelled on many London Underground lines, and across many tube stations at night more times than I can remember. It's most definitely over one hundred times. I have yet to see what I would consider to be a crime.
I'll explain some of my own experiences of travelling on the London Underground at night in the different boroughs, the current crime rates of the London Underground and ultimate safety tips to help you stay safe when on the tube at night.
How Safe is the London Underground at Night?
Generally, the London Underground is safe to travel at night. Crime rates are relatively low, and many underground trains have a large number of passengers until at least 1am every night. Each underground train have CCTV cameras covering every inch of space.
Let's have a look at some of the official London Underground crime rate numbers for 2019 to 2020 (the latest available as of Spring 2021) in comparison to the number of travellers:
| Month | Crime Volume | Crime Rate per 1 Million Passengers |
| --- | --- | --- |
| April | 1,749 | 15.6 |
| May | 1,506 | 12.9 |
| June | 1,833 | 15.8 |
| July | 1,490 | 12.2 |
| August | 1,444 | 13.1 |
| September | 1,365 | 12.1 |
Data shown for 2019. No data is currently available for 2020 due to the Covid pandemic and travel restrictions
The statistics for crime rates are made available by the Transport for London
It still surprises me how busy tube trains are at night, especially between the West End and the City of London.
As well as people who are travelling after a night out at the theatre, restaurants, or bars you will also find a number of tourists and those working into the evening and night travelling home or to work.
I've regularly not been able to even find a seat at 1am on the Central Line near Holborn due to how busy the trains were.
Having a large number of passengers travelling at the same time will naturally make you feel safer.
The old saying of 'Safety in Numbers' fits well here.
As the train starts to head away from the heart of London to the suburbs, or Outer London as it's also known, you will notice passenger numbers start to reduce quickly especially as you reach those underground stations that are also major overground train stations such as Liverpool Street, Victoria, Paddington and Kings Cross.
This is due to passengers catching connecting overground trains to their final destinations.
It's at this point the trains become quieter and start to head to their final routes into the outer boroughs and surrounding counties.
Greater London vs Outer London
Greater London
Much of Greater London – which is best described as being all the tube stations inside the Circle Line as you see it in a standard tube map – will often remain relatively busy from 6am until 1am.
Chance pick-pocketers and drunken revellers are generally the main concerns around these stations.
If any drunken revellers cause you any concern simply move towards the other end of the carriage or change carriages at the next station.
We will look at how to stay safe and keep pick-pocketers and opportunists at bay further on in this article.
The London Underground system is monitored by CCTV 24 hours a day 7 days a week.
Outer London and Surrounding Boroughs and Counties
Even though the more serious crime rate is slightly higher for Outer London boroughs than Greater London boroughs, it still is generally safe to travel by tube.
Thousands of people do so every night without incident.
During the week, many late night travellers to Outer London boroughs are office workers and theatre and restaurant goers travelling home.
At the weekend, the majority of travellers are those who have enjoyed the nightlife London has to offer, as well as workers from other sectors such as those in the entertainment industry.
Everyone though should be aware of their surroundings and be aware of who is entering and exiting the train.
Immersing yourself into your phone whilst checking out Facebook posts or the latest football news may be a good way to pass the time, but you need to be mindful of who is around.
Plus, thieves are opportunists. Grabbing an unsuspecting persons phone out of their hands just before the train doors are about to close at a station has been attempted several times.
If someone looks suspicious on your carriage it may be wise to change carriage at the next station, especially if the rest of the carriage is empty.
If the person follows you to the next carriage, then leave the train as soon as you can and alert a member of the train staff.
Do London Tube Trains Have Guards?
Although London police do board trains in a bid to show their presence, and ward off security threats, it wouldn't be possible or practical for police or security guards to be on every carriage and on every train.
More security presence by the London Underground would be welcome, especially for night-time passengers.
As security and safety threats are generally low across almost all of the London Underground it hasn't been necessary so far for security measures to be increased.
This is generally requested by passengers for peace of mind.
The Safest Underground Lines at Night
The safest London Underground lines at night are the sections that pass through Greater London between Holborn and Paddington. These stations are generally the busiest throughout the night.
This applies to pretty much all underground lines.
This isn't to say of course that no crime takes place on the tube. Therefore, it always wise to be aware of some of the safety tips to help you stay safe.
How to Stay Safe on the London Underground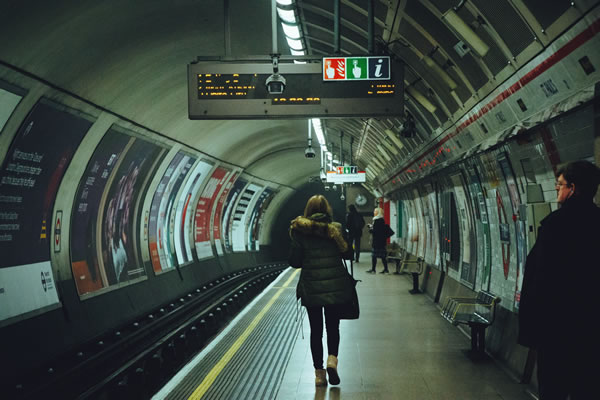 Although major crime rate is low on the underground, it is wise to take precautions, be alert and be sensible whilst travelling.
Throughout our years of travelling on the tube in the small hours, here are some of our tips to stay safe on the London Underground whilst travelling at night:
Be alert to people boarding the train, and those in close proximity to you
Keep all bags fully closed, close by and keep valuable possessions out of sight
Keep to busy carriages where possible
As many tube stations enter and exit at either end of the platform, often the end carriages tend to be the busiest
Don't make continuous eye contact with anyone you are concerned by, or bring yourself to their attention
If anyone does make you feel uncomfortable either move to the other end of the carriage or change carriages (if possible) at the next station
If you feel you are being followed, get off at the next station and alert a member of the train staff
If you really do feel concerned taking the tube, there are many London bus routes that also travel throughout the night
Conclusion – London Underground Safety at Night
On the whole the London Underground is pretty safe. There are more CCTV cameras on the underground than almost anywhere else in London.
Police regularly patrol the underground and many, especially Greater London stations are manned at night – this not always the case in smaller Outer London and surrounding county stations such as those towards the ends of District lines.
Follow our steps to help stay safe on the tubes, and if you feel concerned or threatened speak to a member of the train staff or dial 999.