Although London is an urban jungle, with skyscraper after building after skyscraper, there are a number of tranquil green spaces and beautiful lakes around London to be found.
There's something calming about being close to water.
Maybe the gentle continuous flowing motion creates a lot of harmony with the rest of the surrounding area but escaping to one of London's parks with a beautiful lake to stroll around may be the best tonic to a stressful work morning – or even just a spring or summer day out in the sunshine with a picnic.
So, what are the best lakes in London?
St James Park
Greenwich Park
Regent's Park
Battersea Park
Victoria Park
Alexandra Park
Richmond Park
Chiswick Gardens
Burgess Park
Hyde Park and Kensington Gardens
In this post we'll look at which lakes are best based on where you are or travelling in from as well as what else can be experienced.
St James Park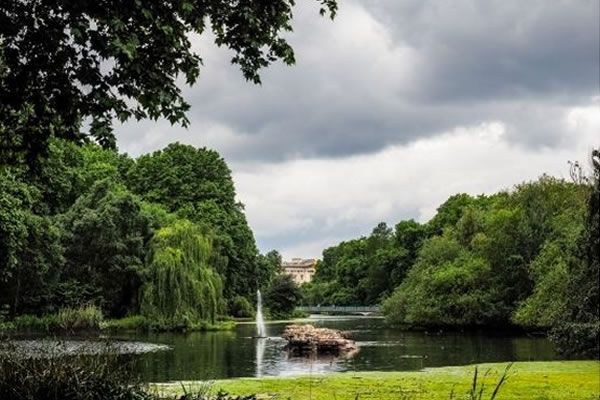 St James Park isn't the biggest park in London, but the lake is simply gorgeous and has lots of great things going on.
The lake consumes a lot of the park, so although the park isn't huge, the lake is lovely to take a stroll around.
Be sure to check out Duck Island.
Tiffany fountain sits in the heart of the lake with a 20ft plume that (as you will see in our photo) and offers amazing scenic views across to Buckingham Palace – home of the Queen.
Make sure you cross Blue Bridge for inspiring views both sides of the lake.
Location: Westminster
Website: St James Park
Greenwich Park
Greenwich Park is regularly visited by thousands.
It's an expansive park situated in the heart of Greenwich, and within walking distance of both Greenwich and Maze Hill stations.
Although Greenwich Park does not have a large lake it does have, no less, than four separate ponds.
The ponds are evenly distributed around the park with Greenwich Boating Pond in the North of the park (closer to Greenwich and Maze Hill stations), Greenwich Park Pond east and centre, Folly Pond to the west and the Prince of Wales Pond towards the south.
Animal lovers will love the deer at Greenwich Park – find out more with this handy PDF download.
The Prince of Wales Pond closer to Blackheath station if this is where you would like to head.
Location: Greenwich
Website: Greenwich Park
Regent's Park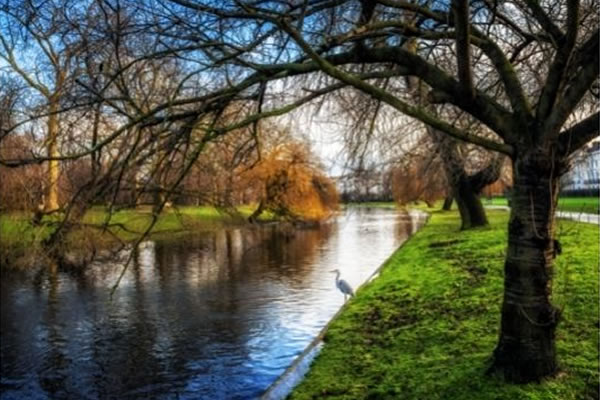 Regent's Park is one of the most famous London parks, as it's the home of London Zoo!
It was named after Prince Regent, who became King George IV and is almost 400 acres in size – it's huge!
If you're close to Marylebone, it really is worth spending some time admiring all the beauty it has to offer.
It has a large boating lake that flows across the southwest of the park along with The Boathouse Café for some light refreshments.
Within Regent's Park Inner Circle, you'll find the calming Japanese Garden Island complete with small waterfalls!
Regents Canal also flows through the north of the park, which can be nice to walk along.
Location: Marylebone
Website: Regent's Park
Battersea Park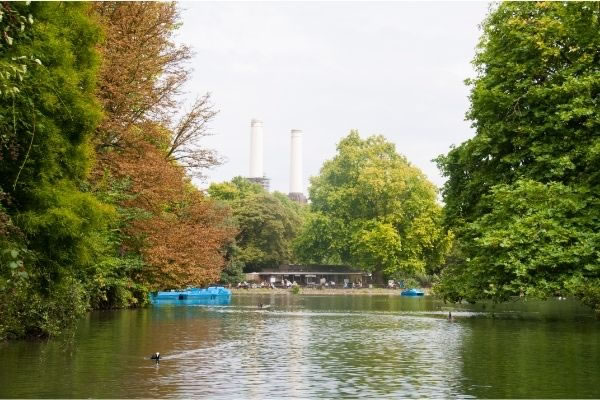 Battersea Park not only has a stunning boating lake to wander around, but it also uniquely runs alongside the River Thames too!
The boating lake covers around one fifth of the size of the park, which is 200 acres in size.
The Bandstand sits right in the heart of the park, as is a popular meeting place.
The Park is also home to the Battersea Park Children's Zoo, home to small animals and birds, but is a wonderful attraction for children if you want to spend time in a London Park with a lake.
Location: Battersea
Website: Battersea Park
Victoria Park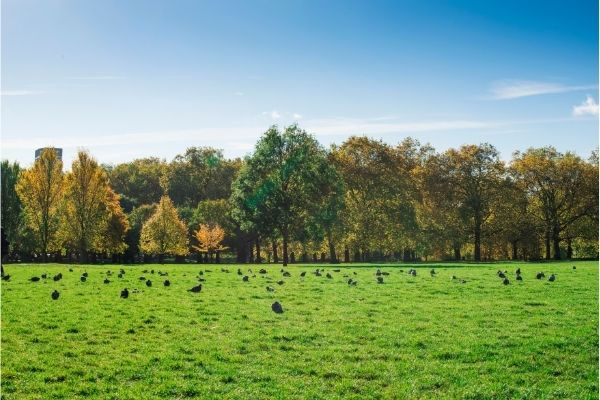 Victoria Park is the oldest man made public garden in London.
It's home to three separate lakes; the Boating Lake, East Lake and the Model Boating Lake.
It has two separate car parks, if you are travelling by road vehicle, and also has three separate buses running through the park across Grove Road and served by bus routes 277, 455 and N277.
The Boating Lake is the largest lake of the three and has a stunning water flume out towards Green Island and the Chinese Pagoda – which looks simply stunning.
Location: Tower Hamlets
Website: Victoria Park
Alexandra Park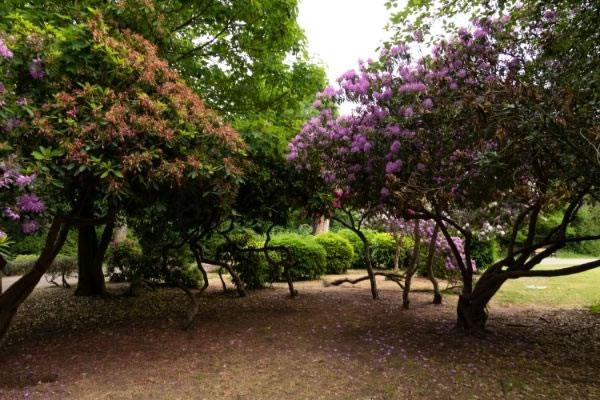 Alexandra Park opened to the public over 150 years ago, way back in 1863.
It is worth noting this park does not sit within Greater London. It can be found North London near Tottenham, Edmonton, and Walthamstow.
The closest train station to the park is Alexandra Park.
It's home to one smallish boating lake at the north end of the park. It also has a Drive In Film Club within the park!
The Park boasts many acres of tranquil space ideal for picnics, walks and just getting some fresh air and relaxation time away from the hustle and bustle of London.
As it sits slightly north of the main capital it boasts cleaner air, which isn't easy to come by in London!
There are lots of things to do in Alexandra Park, including a Farmers Market. Events change but the latest things to do list can be found here
Location: Wood Green
Website: Alexandra Park
Richmond Park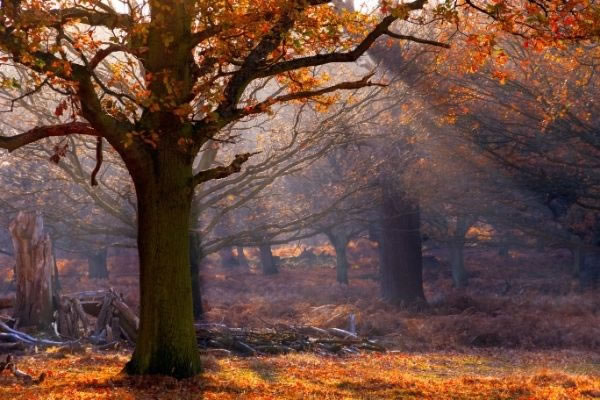 If you have ever been to Richmond Park, or have driven through its outskirts, you will notice three things.
First is the delightful deer park. Many deers roam wild across Richmond Park, as is a place many professional photographers head at sunrise for beautiful deer photo opportunities.
Second is just how big the park is. It's an incredible 2,500 acres in size and certainly one of the largest parks with a lake in London.
Third is the picturesque small lake in the heart of the park, known as Pen Ponds, which are two distinct separate ponds.
The easiest way to visit the lake is to park in the Spankers Hill Wood Car Park, and it's a short walk to the ponds. Fortunately, the car park is near Pen Ponds Café for a light bite.
It's even possible to see St Paul's Cathedral way off in the distance if you stand on top of King Henry's Mound and look towards the east.
Location: Richmond
Website: Richmond Park
Chiswick Gardens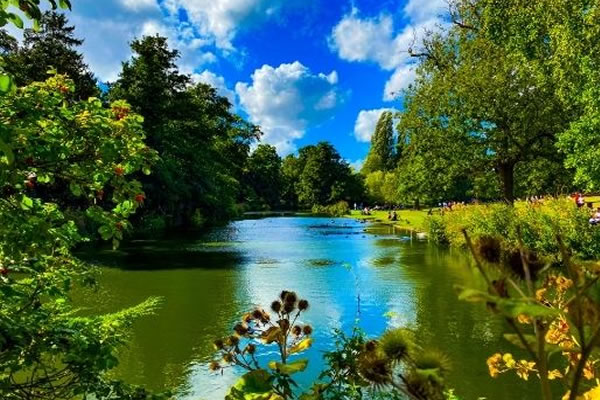 Chiswick Garden's Lake is long and shaped like a needle crossing from southeast to northwest of the park.
It's wonderful to walk along, and if you didn't want to walk the entire way around the lake, you could cross over on Classic Bridge – make sure you stop for a photo opportunity!
Along the lake you'll find the Ionic Temple. A wonderful display of architecture modelled on ancient roman buildings and monuments is one of the last surviving examples.
It's also home to the annual Magical Lantern Festival.
With a quaint tearoom, cricket ground and also Chiswick House it's a small but charming London Park with a lake.
Location: Chiswick
Website: Chiswick Gardens
Burgess Park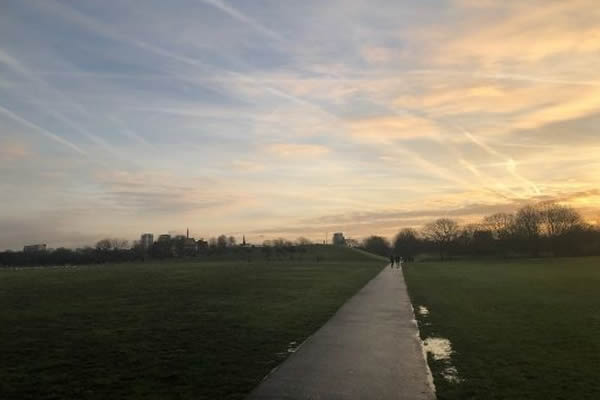 Burgess Park has a beautiful lake to visit and stroll around.
It's a relatively small park, especially in comparison to some of the others on this list, but it is certainly large enough to feel as if you're surrounded by nature rather than cars and buildings.
As well as the lake, It's also home to a football pitch, cricket pitch as well as playgrounds, public conveniences, and a café.
There are many bus routes that take you close enough to the park but bus routes 42 and 343 take you closest to the lake along Albany Road.
Location: Walworth
Website: Burgess Park
Hyde Park and Kensington Gardens – Bonus Lake!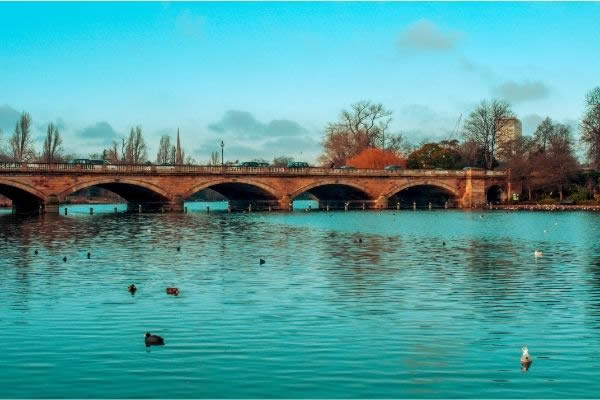 Hyde Park is probably the most famous and well known park in London – and has a huge lake, as well as a small bonus lake (pond).
The Serpentine Lake sits within the heart of Hyde Park. It's visited by many Londoners during lunchtime keen to escape urban life for a while.
The Serpentine Bar and Kitchen really is an experience. It sits overlooking the expanse of the Serpentine Lake.
Kensington Gardens sits within Hyde Park towards the east.
Most people would walk through it without realising as there's no border or marking from Hyde Park.
It combines in to one. Kensington Gardens has a pond called Round Pond near to Kensington Palace. It's well worth a stroll around, and away from the more popular and busy Serpentine Lake.
Location: Mayfair
Website: Hyde Park and Kensington Gardens
Frequently Asked Questions
Can you swim in London's lakes?
It isn't permissible to swim in London's lakes. Many lakes in England allow wild swimming but this is often restricted in London. Swimming in The Serpentine, in Hyde Park, is possible but only to members and only between 5:30am to 9am. The Serpentine also has a Christmas Day swim.
Lakes in London – In Conclusion
London is, surprisingly, home to many gorgeous lakes and green spaces.
Amongst all the urban chaos are tranquil spots ready to be explored, and beautiful lakes to stroll around.