You only have to walk around the central parts of Inner London to see how London is steeped in history.
It's landmarks, iconic icons and the sights and sounds of London that has made it as popular and as famous as it is today.
But if you're not born and bred in London, and visiting from far and wide, it's interesting to find out what made London famous to them, and why they are visiting or have visited.
We took a survey from 25 tourists of London and collated the answers to find out the real reasons London is famous.
So, what is London famous for?
Big Ben
St Paul's Cathedral
Buckingham Palace
London Eye
Red Telephone Boxes
London Black Taxis
Trafalgar Square
Piccadilly Circus and the Piccadilly Lights
Shopping in Oxford Street and Harrods
Sherlock Holmes and 211b Baker Street
Big Ben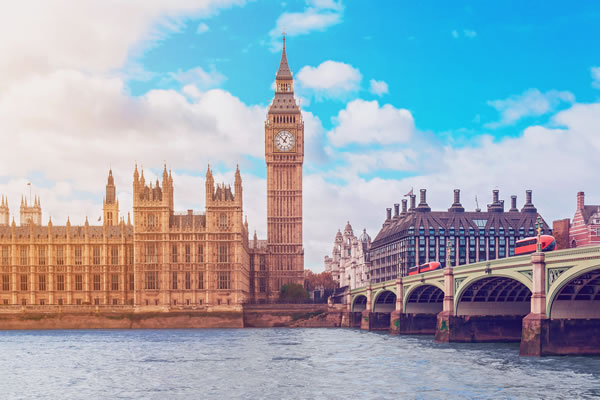 Standing at 96m tall, and built between 1843 and 1859, Big Ben is one of the most iconic and most visited tourist attractions in London.
Sitting in the heart of Westminster, overlooking Westminster Abbey and the Houses of Parliament, it attracts millions of visitors every year to gaze at the clock faces and listen to the famous bell.
In fact, it's actually the bell inside the tower that is called Big Ben.
Many believe it's the clock face and tower that were given this name, but the clock and tower is actually called Elizabeth Tower in honour of Her Majesty the Queen, Elizabeth II, the longest reining monarch in British history.
It's an incredibly famous attraction that all 25 of our respondents voted as being part of their top ten attractions to visit in London.
St Paul's Cathedral
St Paul's Cathedral has sat close to the bank of the Thames, looking over the City of London, for over 340 years now!
It's striking and recognisable dome shaped roof is visible from across the City of London all the way to Westminster.
Did you know that in the Disney film Mary Poppins, as Mary, Bert and the children Jane and Michael climbed on top of the first roof of London looking across in the sooty smoke filled city, St Paul's Cathedral is easily seen.
It now sits along a busy intersection with roads and buses all around. In fact, if you hop aboard either the number 11 or number 26 London Bus route, they both will take you past the historic building for the price of a bus ticket!
They both stop nearby so you can stop off for a while, enjoy the cathedral and take some photos.
St Paul's Cathedral is also served well by the Central Line (red). Alight at St Paul's and the cathedral is outside the St Paul's London underground station.
For the best views head over and walk to the end of the Millennium Bridge and turn around. Iconic view!
Buckingham Palace
The Queen and Royal Family are considered to be one of the biggest reason's tourists from all over the world flock to London.
Although the chances of actually seeing the Queen during a visit is incredibly rare, it is possible. Especially if she is leaving the palace.
Buckingham Palace is also famous for the changing of the guard. Although often the armed guards are considered a tourist attraction, their job is to protect the palace and the queen – and they take their job very seriously!
A walk along The Mall from Trafalgar Square, and just around the corner from Big Ben and Westminster will give you the best view of the famous Buckingham Palace.
Recently the Diana Princess of Wales Memorial has been unveiled, which is a humble but heart-warming opportunity to pay your respects to the never forgotten princess.
London Eye
Although the London Eye (officially known as the 'LastMinute.com London Eye' for marketing and advertising reasons, although we will refer to it here simply as The London Eye) is a relatively knew addition to the Westminster skyline, it is has proved to be very popular very quickly to give it it's famous reputation.
Standing at 135m – which is 39 metres taller than Big Ben, which is positioned just the other side of the water – it looks like a giant Ferris Wheel along the River Thames.
I have been on the London Eye a couple of times now. It offers magnificent views of London City including St Paul's Cathedral, Big Ben and Westminster Bridge. You can also see London Bridge in the distance.
Sunrise and sunset experiences are the most sought after, so if you are looking to experience a London sunrise or sunset from the skies, you'll need to book way in advance.
The sun rises from towards St Paul's in the East and sets in the direction of Big Ben in the West, although as a tip Big Ben is a little difficult to see when the sun is setting just behind it due to the glare of the sunlight.
Red Telephone Boxes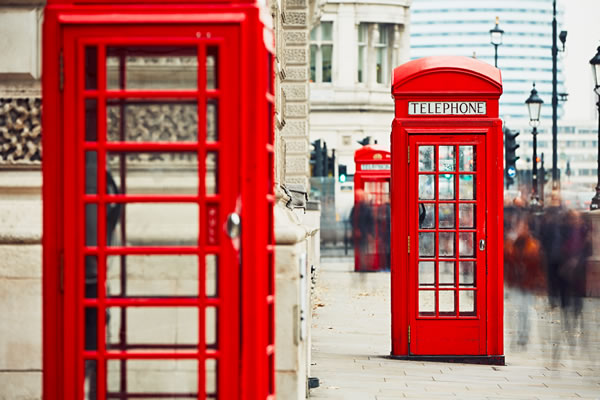 Nothing screams famous and iconic London than the sight of a red telephone box.
Red telephone boxes were not just found in London, they were found all over the UK.
Today red phone boxes are still as much a part of London streets as they ever were, even though many of us of course carry a mobile phone around with us.
During the nineties many of the red telephone boxes were replaced across the UK with BT (British Telecom) phone boxes taking either cash or a telephone prepaid card – until they were all but phased out because of the dramatic rise in mobile phones.
There are still red telephone boxes that can be found across the UK, as well as London, although outside of London they have kept their frame but now inside you may find a library with free donated books by residents, or even a defibrillator!
In London, the red telephone boxes have kept their charm and working telephones can be found in almost all of them still today.
There are many around the City of London, and in particular the Westminster area.
London Black Taxis
As famous as New York yellow cabs, the London Black Taxis have been on London streets for over 50 years now.
The iconic all black cab, with yellow Hire light on top showing whether the taxi is available to be hired, or whether the taxi driver already has a fare, are as popular with tourists as the red telephone boxes.
You'll see a number of these down almost all major streets in and around London.
Black cab drivers famously know London streets like the back of the hand and know all the quick short cuts to get you around town quickly!
London Black Taxis are facing unprecedented competition from Uber, and other ride sharing taxi firms. Black taxis are notoriously expensive. Drivers are vetted and go through very strict checks and road driving safety test but equally you do pay a premium.
Ubers are considerably cheaper.
Hopefully, the Uber and ride sharing wave doesn't see an end to the Black Cabs. It would be a shame not to see them on our streets of London.
It is definitely worth the experience of hailing down a black taxi – you can do so from the kerb by holding your hand up at a passing black taxi driver, as long as their yellow 'For Hire' sign is illuminated.
As I mentioned black taxi fares are high. A charge is levied the moment you enter the taxi and is increased from there.
Depending on traffic you could probably hail down a London Black Taxi at Westminster Bridge or Big Ben and travel in style to Buckingham Palace (a distance of approx. 1 mile) for around £10 (or US$14).
Trafalgar Square
Much of what is seen now in Trafalgar Square was, some 400 years ago, the stabling area of the horses belonging to the Royal Family.
How times have changed!
It was renamed to Trafalgar Square in 1830, after the area became pedestrianised and open to local residents of London.
Today it is home to museums, cultural buildings and of course famously home to Nelson's column and the guarding lions.
Piccadilly Circus and the Piccadilly Lights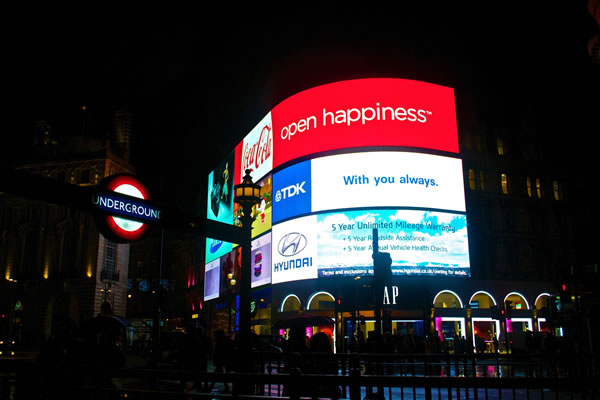 Piccadilly Circus is incredibly famous for one very distinguishing feature. The advertising billboards, known as the Piccadilly Lights.
Historically these were paper advertisements, glued to the side of the surrounding buildings, helping large corporations, market their brand to one of the most popular, and tourist driven places in the world.
The Coca Cola sign has famously held residence there for a number of years.
As times and technology has changed the advertising billboards were changed to flashy animated digital screens – similar to those found at Times Square, New York – and as a result the name Piccadilly Lights has now been made famous.
The Piccadilly Lights are just that. Lights generated by the advertising billboards.
Piccadilly Circus is extremely touristy. Many souvenir shops can be found as well as theatres and restaurants.
It's a great place to take photos, especially with the red London Buses passing through regularly, with the advertising signs in the background.
Piccadilly Circus and the Piccadilly Lights are found at the heart of Piccadilly. Piccadilly Circus station takes you straight to the main sights – or you could walk down Regent Street from Oxford Circus Station. The brisk walk should take approx. 10 minutes, as it is just half a mile long.
Shopping in Oxford Street and Harrods
Oxford Street shopping is almost as famous as shopping along 5th Avenue in New York!
At Christmas time Oxford Circus and Oxford Street comes alive with beautiful Christmas illuminations between Tottenham Court Road and Marble Arch.
It really is well worth seeing, and aside from the enormous range of shops available, with many of them spanning several floors, the ardent shoppers could spend a few days trying to explore them all.
The most famous shop along Oxford Street would have to be Selfridges.
Selfridges built in 1909 is a grade two listed building covering 9 floors!
It was designed for Harry Gordon Selfridge himself by Daniel Burnham and has been the headquarters of the Selfridges brand since then.
If you also want to explore the world famous Harrods store in London, you won't find it along Oxford Street. You will need to head to Knightsbridge.
Fortunately, it isn't far and within walking distance. Bus and London Underground routes are also possible.
To walk between Oxford Circus station in London to Harrods would take approx. 35 minutes. Given how much traffic there is down Oxford Street every day, and how many traffic lights there are along one stretch of road, you may find it takes this long on a bus!
Sherlock Holmes and 221b Baker Street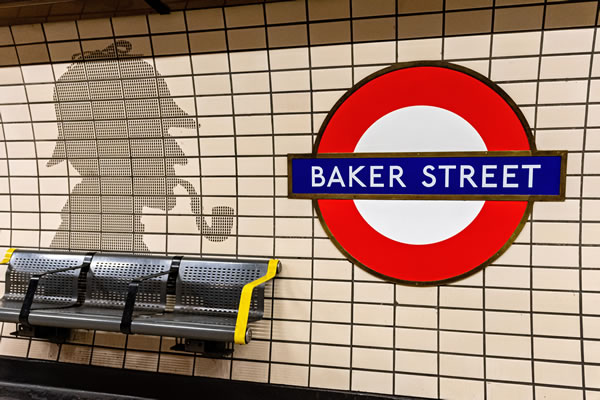 No famous London list could be written without the inclusion of Britain's most famous detective!
Sir Arthur Conan Doyle's creation literally comes alive down Baker Street.
Although the address, 221b Baker Street, is considered fictional you will find The Sherlock Holmes Museum at what is now official deemed as 221b Baker Street (even according to Google Maps!).
You'll find a constable standing guard outside the museum dressed exactly how London constables were dressed during the Sherlock Holmes era – and the museum inside is a wonderful testament to the enduring and everlasting legacy of one Mr Sherlock Holmes, and his ever ready and trustworthy sidekick Dr Watson.
You'll find 221b Baker Street near Baker Street underground station (come out of the station and turn right into Baker Street), or a 20 minute walk up Baker Street from Oxford Circus.
It's a must for any Sherlock Holmes fan (such as myself) and as Sherlock Holmes stories have been told worldwide, it's another place London is famous for.
Why is London so famous worldwide?
London is steeped in history.
Many monuments and landmarks made famous around the world to the Royal Family and ties to legacies young and old.
From Charles Dickens Christmas Carol which ignites romantic notions of a Victorian Christmas set amongst wood stove fireplaces and cobblestones in a cold snow filled London night, to Harry Potter and the many places in London now made famous for scenes.
You can even talk a Harry Potter walking tour around London where a tour guide will show you all the places featured in the films.
It's a city literally dripping in history and expressive in culture.
In Conclusion – The Fame of London
London has an array of stunning landmarks, places to visit and royal history.
Even modern technology in and around London is becoming famous worldwide (such as Piccadilly Lights and the London Eye).
Many sights on the list of tourists as their 'must see places' include a mixture of old and new.
The Royal Family, and the royal history, is one of the biggest reasons London is famous of course, but the remaining amazing sights, sounds and tastes are a good enough reason to stay a while!